Relevant Links
Link to Press Release
Link to Original Paper
Press Contact

Keywords
Social Media, algorithms
Buzz



COMPUTING RESEARCH HIGHLIGHT OF THE WEEK [Feb 25 - March 2, 2012]
Seriously Rapid Source Review
---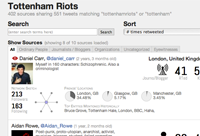 Researchers at Rutgers University and Microsoft developed Seriously Rapid Source Review to give journalists access to breaking news like never before. Reporters won't have to comb the web or Twitter's 200 million tweets a day for sources. This program (under development) will act like a sieve that pull tweets from key sources currently sharing reports, images and video from the ground.
SRSR explores the ability to intelligently sift through the location data of a source and it's network to extrapolate the veracity of the report. An additional component will track the five most mentioned companies, people or places, in a source's feed.
Full Article...
Researchers:
Nicholas Diakopoulos (Rutgers University)
Munmun De Choudhury (Microsoft Research)
Mor Naaman (Rutgers University)
‹ Current Highlight | Past Highlights ›
---
Computing Research Highlight of the Week is a service of the Computing Community Consortium and the Computing Research Association designed to highlight some of the exciting and important recent research results in the computing fields. Each week a new highlight is chosen by CRA and CCC staff and volunteers from submissions from the computing community. Want your research featured? Submit it!.