Relevant Links
Link to Press Release
Project Web Page
Link to Original Paper
Press Contact

Keywords
image analysis, computer vision, photoshop, human perception
Buzz



COMPUTING RESEARCH HIGHLIGHT OF THE WEEK [December 16 - 23, 2011]
Photoshopped?
---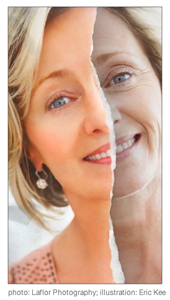 Dartmouth College researchers have developed software that measures how much fashion and beauty photographs have been altered. The researchers, led by Dartmouth professor Hany Farid and Ph.D. student Eric Kee, say the new tool could be a technological step to address concerns about the prevalence of digitally edited images in advertising and fashion magazines. The researchers say that highly altered images contribute to eating disorders and anxiety about body types, especially among young women. The Dartmouth research could be hugely important as a tool for objectively measuring the degree to which photos have been altered, says Off Our Chests co-founder Seth Matlins, who recently proposed the Self-Esteem Act, which would require photos that have been meaningfully changed to be labeled. The Dartmouth tool statistically measures how much the image has been altered. Farid and Kee developed the algorithm by recruiting online volunteers to compare sets of before-and-after images, ranking them on a scale of one to five as minimally altered to drastically changed. The rankings were used to train the software.
Researchers:

Hany Farid (Dartmouth College)
Eric Kee (Dartmouth College)
Institution(s) (that have supported the research):
NSF, Dartmouth College
‹ Current Highlight | Past Highlights ›
---
Computing Research Highlight of the Week is a service of the Computing Community Consortium and the Computing Research Association designed to highlight some of the exciting and important recent research results in the computing fields. Each week a new highlight is chosen by CRA and CCC staff and volunteers from submissions from the computing community. Want your research featured? Submit it!.