Relevant Links
Press Release
Research Papers
Media Contact
Keywords
neurobotics; prosthetics; disabilities; artificial hand; brain-computer interface
Buzz



COMPUTING RESEARCH HIGHLIGHT OF THE WEEK [April 17 - 24, 2009]
Robots that Take Orders From the Brain
---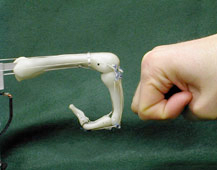 At the University of Washington, MacArthur "genius" award-winner Yoky Matsuoka is leading an effort to build robotic hands and other devices that will take commands directly from the human brain — and revolutionizing the opportunities for people with disabilities to function more fully.
Matsuoka — who trained at Berkeley, MIT, and Harvard and was a faculty member at Carnegie Mellon before moving to the University of Washington's Department of Computer Science & Engineering several years ago — is charting new territory by taking on and blending multiple disciplines such as computer science, biomedical engineering, mechanical engineering and neuroscience.
"Our prostheses are primitive, so feeding them a lot of control signals is fruitless because they are not fully functional," says UW CSE professor Ed Lazowska in describing Matsuoka's work. "But our ability to 'tap in' is very limited, too, so even if we had a fully functional prosthesis, we wouldn't be able to get it the signals necessary to control it. You need to attack all aspects of the problem. That's what Yoky and her collaborators are doing."
Researchers:
Yoky Matsuoka, (Computer Science & Engineering, University of Washington)

Research support provided by:
MacArthur Foundation, NSF, NIH
‹ Current Highlight | Past Highlights ›
---
Computing Research Highlight of the Week is a service of the Computing Community Consortium and the Computing Research Association designed to highlight some of the exciting and important recent research results in the computing fields. Each week a new highlight is chosen by CRA and CCC staff and volunteers from submissions from the computing community. Want your research featured? Submit it!.