Relevant Links
Press Release
Research Papers
Media Contact
Keywords
Data-mining, Media, News-tracking, Memes
Buzz



COMPUTING RESEARCH HIGHLIGHT OF THE WEEK [August 14 - 21, 2009]
Cornell Computer Scientists Track the News Cycle
---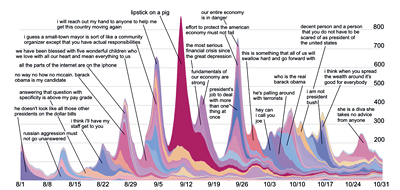 Cornell computer scientists have mapped the way stories rise and fall in popularity over time. As more and more information becomes available online, it is possible to track the life cycle of a particular news story.
Jon Kleinberg, Professor of Computer Science at Cornell, postdoctoral researcher Jure Leskovec and graduate student Lars BackstromBy presented their findings in a recently published paper, "Meme-tracking and the Dynamics of the News Cycle." By searching 1.6 million online news sites, including 20,000 mainstream media sites and a vast number of blogs, for repeated phrases that represented a particular idea or interest in a story line. Phrases that are repeated frequently represent an idea, meme or story line that can be tracked over time to show how a news story becomes popular and then fades.
An interactive version of the graph is available at http://memetracker.org.
The Cornell research, represents one of the largest analyses of online news. Previously, researchers have studied news cycles by focusing mainly on case studies rather than working with large data sets. This study may add further evidence for the usefulness of web analytics for sociological research.
Researchers say that their model needs to be refined, suggesting further study on the role political orientation may play in the movement of stories between sites as well as their popularity.
Researchers:
Jon Kleinberg (Cornell University) [http://www.cs.cornell.edu/home/kleinber/]
Jure Leskovec (Stanford University, CMU) [http://www.cs.cmu.edu/~jure/]
Lars Backstrom (Cornell University) [http://www.cs.cornell.edu/~lars/]
Research support provided by:
National Science Foundation
‹ Current Highlight | Past Highlights ›
---
Computing Research Highlight of the Week is a service of the Computing Community Consortium and the Computing Research Association designed to highlight some of the exciting and important recent research results in the computing fields. Each week a new highlight is chosen by CRA and CCC staff and volunteers from submissions from the computing community. Want your research featured? Submit it!.