Relevant Links
Press Release
Project Web Page
Research Papers
Media Contact
Keywords
educational technology, information technology for development, University of Washington
Buzz



COMPUTING RESEARCH HIGHLIGHT OF THE WEEK [January 14 - 21, 2010]
"One Keypad per Child" Lets School Children Share Screen to Learn Math
---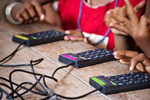 University of Washington computer science undergraduates have developed a system that lets up to four students share a single computer to do interactive math problems. Early tests show that students using the tool are able to share a single screen while working on problems at their own pace, effectively quadrupling the number of computers available for math exercises.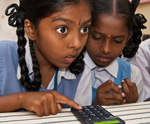 "Computer sharing is quite common in much of the world," said Joyojeet Pal, a lecturer in UW Computer Science & Engineering who has studied technology adoption in rural India, Rwanda, and the slums of Brazil. Despite this, though, practically no learning technologies accommodate sharing, Pal said.
This month the team will test the system, called MultiLearn, with 180 students who are attending two government-run elementary schools in rural India.
"Children show dominance patterns when they sit in front of a machine," Pal said. "If there are three to five children, then the child who is the smartest and from the most affluent family controls the mouse."
In 2006 Pal worked with Kentaro Toyama at Microsoft Research India helping to connect multiple mice to a single computer so that many users could share control of the screen. That product, MultiPoint, is now used by an estimated 20,000 children. But point-and-click with a mouse does not work well for math problems.
UW undergraduate students in Pal's course decided to build a similar system for a numeric keypad. MultiLearn was developed over the past year by undergraduates Clint Tseng, Heather Underwood and Sunil Garg. Their system connects four numeric keypads, each of which costs about $4, to a computer. The screen is split into four columns. Each student looks at one column, where he or she is given math problems based on performance on previous answers.
Researchers:
Joyojeet Pal (University of Washington Computer Science & Engineering)
Heather Underwood (University of Washington Computer Science & Engineering)
Clint Tseng (University of Washington Computer Science & Engineering)
Sunil Garg (University of Washington Computer Science & Engineering)
Research support provided by:
University of Washington Technology & Social Change Group
University of Washington Undergraduate Research Program
University of Washington Computer Science & Engineering
Microsoft Research India
Azim Premji Foundation of India
‹ Current Highlight | Past Highlights ›
---
Computing Research Highlight of the Week is a service of the Computing Community Consortium and the Computing Research Association designed to highlight some of the exciting and important recent research results in the computing fields. Each week a new highlight is chosen by CRA and CCC staff and volunteers from submissions from the computing community. Want your research featured? Submit it!.