Relevant Links
Keywords
Network
Buzz



COMPUTING RESEARCH HIGHLIGHT OF THE WEEK [June 16- June 21]
Jellyfish: Networking Data Centers Randomly
---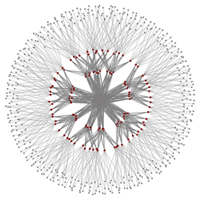 While computer network designers have traditionally adhered to carefully planned, symmetrical structures, a team of computer science researchers at the University of Illinois is proposing the exact opposite: complete randomization of the network topology.
Ph.D. students Ankit Singla and Chi-Yao Hong, computer science professor Brighten Godfrey, and Lucian Popa of HP Labs are working together working together on the project, called "Jellyfish". The project harnesses randomized networks to increase flexibility in network growth over time, and to achieve high network capacity at low cost.
Full Article...
Source: You Infinite Snake blog
Researchers:

Brighten Godfrey
Ankit Singla
Chi-Yao Hong
Lucian Popa 

‹ Current Highlight | Past Highlights ›
---
Computing Research Highlight of the Week is a service of the Computing Community Consortium and the Computing Research Association designed to highlight some of the exciting and important recent research results in the computing fields. Each week a new highlight is chosen by CRA and CCC staff and volunteers from submissions from the computing community. Want your research featured? Submit it!.