Relevant Links
Press Release
Project Web Page
Research Papers
Media Contact
Keywords
Graphical User Interface, GUI, Prefab, widget, toolkit
Buzz



COMPUTING RESEARCH HIGHLIGHT OF THE WEEK [March 31 - April 9, 2010]
Re-Inventing the Graphical User Interface
---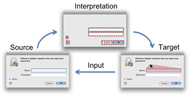 The Prefab system, designed by University of Washington researchers James Fogarty and Morgan Dixon, allows users to customize the graphical user interfaces of applications without access to the application or GUI toolkit source code.
Prefab reverse-engineers the pixels in GUI's. Informed by how commonly-used user interface toolkits paint interfaces, Prefab features a separation of the modeling of widget layout from the recognition of widget appearance.
Before Prefab, a researcher who wanted to study a new interaction technique in the context of rich and realistic applications, or a practitioner who wanted to adopt a technique from the literature for an application, was generally faced with the prospect of re-implementing huge portions of a toolkit or an application. Most instead choose to demonstrate techniques only in toy applications or to develop applications based in simple combinations of standard widgets. The difficulty of implementing new interaction techniques in new and existing applications and toolkits is limiting the progress and impact of human-computer interaction research.
Prefab contributes pixel-based reverse engineering of interfaces that separates modeling of widget layout from recognition of widget appearance, Prefab enables a practical approach to adding advanced behaviors to new and existing interfaces independent of particular user interface toolkits. In addition to its direct implications for human-computer interaction research and practice, Prefab can help to break some of the critical mass and chicken-and-egg problems currently limiting user interface tools research.
Prefab will receive a Best Paper Award at the ACM Conference on Human Factors in Computing Systems (CHI) conference in April 2010.
Researchers:
James Fogarty (University of Washington)
Morgan Dixon (University of Washington)
Research support provided by:
ARCS Foundation, Hacherl Fellowship, Intel
‹ Current Highlight | Past Highlights ›
---
Computing Research Highlight of the Week is a service of the Computing Community Consortium and the Computing Research Association designed to highlight some of the exciting and important recent research results in the computing fields. Each week a new highlight is chosen by CRA and CCC staff and volunteers from submissions from the computing community. Want your research featured? Submit it!.