Relevant Links
Link to Press Release
Link to Project Web Page
Press Contact

Keywords
Social Media, algorithms
Buzz



COMPUTING RESEARCH HIGHLIGHT OF THE WEEK [March 2-9, 2012]
Dark Web Project
---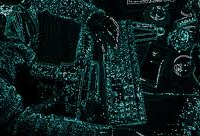 Researchers engaged in the "Dark Web Project," a program started partly in response to the 9/11 terrorist attacks, have developed methods for tracking the spread of dangerous ideas through certain rogue and jihadi Web forums. Using a mathematical model known as SIR, used by epidemiologists to describe the transmission of disease, researchers have determined that the infection rate for becoming a suicide bomber is 2 in 10,000, Hsinchun Chen of the University of Arizona in Tucson reported February 18 at the annual meeting of the American Association for the Advancement of Science.
The Dark Web Project, housed at the University of Arizona, collects information from blogs, forums and other websites from hidden realms of the Web. Search engines typically explore only what's known as the publicly indexable web. The invisible Web, which includes these Dark Web forums, is estimated to contain 500 times as much information as the surface web.
Full Article...
Researchers:
Hsinchun Chen (University of Arizona in Tucson)

Supporting Institutions:
NSF, University of Arizona in Tucson
‹ Current Highlight | Past Highlights ›
---
Computing Research Highlight of the Week is a service of the Computing Community Consortium and the Computing Research Association designed to highlight some of the exciting and important recent research results in the computing fields. Each week a new highlight is chosen by CRA and CCC staff and volunteers from submissions from the computing community. Want your research featured? Submit it!.