Relevant Links
Link to Press Release
Press Contact

Keywords
Biosystems, Computational Biology, Intelligent Systems, Robotics
Buzz



COMPUTING RESEARCH HIGHLIGHT OF THE WEEK [December 23 - 30, 2011]
Computers Implanted in Brain Could Help Paralyzed
---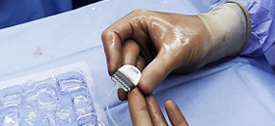 The University of California (UC), Berkeley and UC San Francisco launched the Center for Neural Engineering and Prostheses a year ago to take advantage of the neurology expertise in San Francisco and the engineering skills in the Bay Area. The center develops technologies that enable the human brain to control electronic devices. "Medicine has not taken neural prosthetics very seriously until recently," says center co-director Edward Chang. The neural prosthetic devices work by connecting a device inserted into the brain directly to a computer. The electrical signals from the brain travel through a cable to the computer, where they are decoded into instructions for some kind of action, such as moving a cursor. The physical technology is one of several hurdles the researchers must overcome before the devices are truly useful. The researchers note that some of the problems are going to require a greater understanding of how the human brain works. A major part of the research is determining what devices would actually be useful to patients. "I want to find out what are the things that are going to be most useful for people, and it may be as simple as communication," Chang says.
Full Article...
Researchers:
Jose M. Carmena (UC Berkeley)
Institution(s) (that have supported the research):
UC Berkeley
‹ Current Highlight | Past Highlights ›
---
Computing Research Highlight of the Week is a service of the Computing Community Consortium and the Computing Research Association designed to highlight some of the exciting and important recent research results in the computing fields. Each week a new highlight is chosen by CRA and CCC staff and volunteers from submissions from the computing community. Want your research featured? Submit it!.