Relevant Links
Link to Press Release
Link to Project Webpage

Keywords
clusters, gpl, parallel processing
Buzz



COMPUTING RESEARCH HIGHLIGHT OF THE WEEK [Jan 20 - 27 , 2012]
Kiwi's Software Wows Google, NASA
---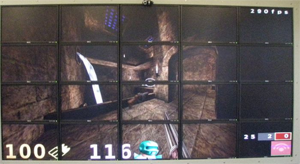 New software used worldwide to connect multiple screens to form one big image is the work of a New Zealand student. The University of Waikato's Paul Hunkin developed ClusterGL in 2008 for use with Waikato's display wall as a side project. When Hunkin applied for Google's Summer of Code internship, the company was more interested in ClusterGL and paid him to further develop the software for its own curved display walls called Liquid Galaxy. The display walls consist of several screens in a circular arrangement that run Google Earth in parallel for an immersive virtual experience. The U.S. National Aeronautics and Space Administration's Johnson Space Center also uses the program. "The problem that you have when you want to make a really big wall of screens is that you need to use lots of computers, but computer programs are usually written on one computer, so it's quite difficult to spread them over a multiple of computers," Hunkin says. "My system lets you take any normal program and split it up to run across as many screens as you want."
Full Article...
Researchers:
Paul Hunkin (University of Waikato)
Institution(s) (that have supported the research):
Google
‹ Current Highlight | Past Highlights ›
---
Computing Research Highlight of the Week is a service of the Computing Community Consortium and the Computing Research Association designed to highlight some of the exciting and important recent research results in the computing fields. Each week a new highlight is chosen by CRA and CCC staff and volunteers from submissions from the computing community. Want your research featured? Submit it!.