Relevant Links
Press Release
Research Papers
Media Contact
Keywords
cell phone, ubiquitous computing, ubiquitous sensing, activity inference
Buzz



COMPUTING RESEARCH HIGHLIGHT OF THE WEEK [Dec 18-25, 2008]
Cell Phones with Sensors aid Fitness, Environmental Awareness
---
Researchers at the University of Washington and Intel have created two new cell phone applications, dubbed UbiFit and UbiGreen, to automatically track workouts and green transportation. The programs display motivational pictures on the phone's background screen that change the more the user works out or uses eco-friendly means of transportation.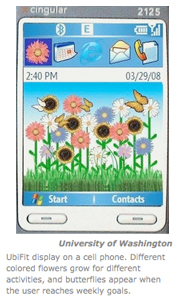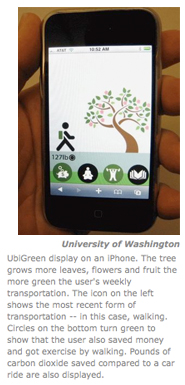 The applications are designed to change people's behavior for the better, said Sunny Consolvo, one of UbiFit's creators. In a three-month field experiment, people using UbiFit with the background display kept up their workout routines over the winter holidays, a period when people typically slack off on exercise, while people without the display let their regimen slide.
UbiFit and UbiGreen are part of a larger project at UW to use mobile computing in everyday activities to motivate the achievement of long-term goals, said project leader James Landay, UW Computer Science & Engineering associate professor.
Researchers:
James Landay, (University of Washington)
Sunny Consolvo, (Intel Research Seattle)
Research support provided by:
Intel, National Science Foundation
‹ Current Highlight | Past Highlights ›
---
Computing Research Highlight of the Week is a service of the Computing Community Consortium and the Computing Research Association designed to highlight some of the exciting and important recent research results in the computing fields. Each week a new highlight is chosen by CRA and CCC staff and volunteers from submissions from the computing community. Want your research featured? Submit it!.