Relevant Links
Press Release
Research Paper
Media Contact
Keywords
3-D model, body shape, vision, Michael Black, Brown University, laser scans
Buzz



COMPUTING RESEARCH HIGHLIGHT OF THE WEEK [Dec 11-18, 2008]
Brown University's Michael Black and Alexandru Balan Create Program To Calculate Body Shape
---
Imagine you are a police detective trying to identify a suspect wearing a trench coat, baggy pants and a baseball cap pulled low. Or imagine you are a fashion industry executive who wants to market virtual clothing that customers of all shapes and sizes can try online before they purchase. The main obstacle to these and other pursuits is creating a realistic, 3-D body shape — especially when the figure is clothed or obscured.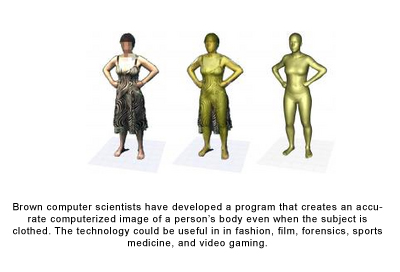 "If you see a person wearing clothing, can the computer figure out what they look like underneath?" asked Michael Black, professor of the computer science at Brown.
Black and graduate student Alexandru Balan believe they have figured out how that can be done. The researchers have created a computer program that can accurately map the human body's shape from digital images or video. This is an advance from current body scanning technology, which requires people to stand still without clothing in order to produce a 3-D model of the body.
With the new 3-D body-shape model, the scientists can determine a person's gender and calculate an individual's waist size, chest size, height, weight and other features.
Brown University has filed two provisional patents covering the research and its potential commercial applications.
The key insight for Black and Balan was when they learned they could divine clues about a person's shape even with clothing. They created a computerized body model from 2,400 detailed laser range scans of men and women in minimal clothing. They found that by combining information from a person in multiple poses, the computer was able to infer the gender of the person and the 3-D body shape. They further refined the model by incorporating the computer's detection of skin in the images.
Researchers:
Michael J. Black, Professor of Computer Science, Brown University
Alexandru Balan, Ph.D. Student, Department of Computer Science, Brown University
Research support provided by:
The Office of Naval Research, the Rhode Island Economic Development Corp., and the Intel Corporation
‹ Current Highlight | Past Highlights ›
---
Computing Research Highlight of the Week is a service of the Computing Community Consortium and the Computing Research Association designed to highlight some of the exciting and important recent research results in the computing fields. Each week a new highlight is chosen by CRA and CCC staff and volunteers from submissions from the computing community. Want your research featured? Submit it!.