Relevant Links
Link to Original Paper
Ehud Shapiro

Keywords
nanocomputing, disease, medical
Buzz



COMPUTING RESEARCH HIGHLIGHT OF THE WEEK [August 12 - 19, 2011]
Detecting Diseases With Computers
---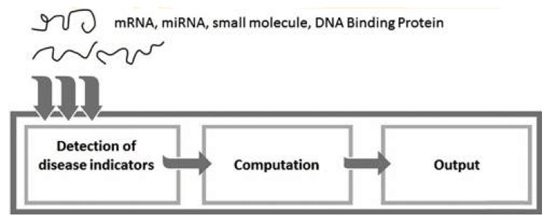 Wouldn't it be nice if your computer knew you were sick before you yourself knew? Ehud Shapiro and coauthors from the Weizmann Institute of Science in Rehovot, Israel have made a bimolecular computer that can detect many types of molecules autonomously. It theoretically could lead to nano-sized computers that would detect disease in your body far before you could know you were sick.
Researchers:

Ehud Shapiro (Weizmann Institute of Science)

Institution(s) (that have supported the research):
Weizmann Institute of Science
‹ Current Highlight | Past Highlights ›
---
Computing Research Highlight of the Week is a service of the Computing Community Consortium and the Computing Research Association designed to highlight some of the exciting and important recent research results in the computing fields. Each week a new highlight is chosen by CRA and CCC staff and volunteers from submissions from the computing community. Want your research featured? Submit it!.