Relevant Links
Press Release
Research Papers
Media Contact
Keywords
Multi-touch, ZeroTouch, Free-Air, Interaction, Sensing
Buzz



COMPUTING RESEARCH HIGHLIGHT OF THE WEEK [July 25 - August 3]
Graduate student Jon Moeller, ZeroTouch featured in Best Buy commercial
---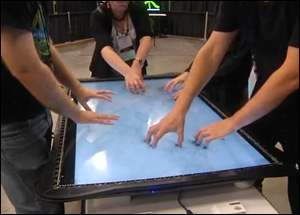 The Texas A&M Interface Ecology Lab introduces the latest generation of the high fidelity ZeroTouch™ Sensor for multi-touch and free-air interaction at the Interactivity exhibition of the ACM CHI human-computer interaction conference (i433 through 5/12/2012). ZeroTouch is a disruptive technology that brings the body into human-centered computing, enabling new forms of expressive, yet precise and powerful interactivity. ZeroTouch turns any display or any area into a multi-touch surface. The latest ZeroTouch sensor's data transfer rate is 8 times faster than before, enabling construction of sensors of any practical size.
ZeroTouch is the highest performance and potentially most cost effective large scale multi-touch sensor currently available. When integrated into a 42" television, ZeroTouch is expected to add as little as $500 to cost at mass production introduction. Meanwhile, development kits are available to a limited num ber of early adopting researchers at somewhat higher costs. ZeroTouch has been developed with support from the Human-Centered Computing program of the National Science Foundation.
ZeroTouch research is undertaken with support from the Human-Centered Computing program of the National Science Foundation. PSOC components are donated by Cypress Semiconductor.
Full Article...
Source: Texas A&M University
Researchers:
Jon Moeller (Texas A&M University)
Dr. Andruid Kerne (Texas A&M University)
Agencies (that have supported the research):
National Science Foundation
‹ Current Highlight | Past Highlights ›
---
Computing Research Highlight of the Week is a service of the Computing Community Consortium and the Computing Research Association designed to highlight some of the exciting and important recent research results in the computing fields. Each week a new highlight is chosen by CRA and CCC staff and volunteers from submissions from the computing community. Want your research featured? Submit it!.